Items filtered by date: August 2019

How do I know if I have gout in my foot?
Gout is distinguished from other foot pain by a variety of symptoms. The swelling and pain from gout is usually centered in the joints of your foot and is worst in the big toe. You may experience sudden and intense attacks of burning pain that make it feel like the foot is on fire.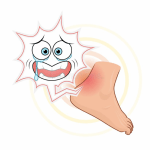 Heel pain is a very common problem that sends people to see a podiatrist. However, not all heel pain is the same. The pain in your heel can be SHARP, DULL, ACHY, RADIATING like ELECTRIC SHOCK, BUILDING with activity, and even gets better with walking. Heel pain can be in DIFFERENT LOCATIONS at the heel and can occur at DIFFERENT AGES. All of these can have very different diagnoses; and very different treatments.
---
Proudly serving Nassau County, NY for over 25 years